Benidorm Palace
00038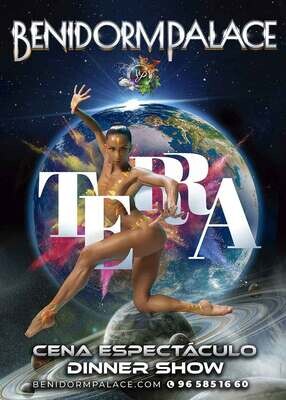 Entrance Tickets
Rehearsals have began for the new show Fuego (fire) that will debut March 3rd
At the moment you can still enjoy TERRA on Tuesdays, Thursdays, Fridays and Saturdays until the end of February.
Dancers, aerial dances, comedians, magicians, illusionists, live music and much more for a unique experience that can only be lived at Benidorm Palace.
The latest generation technology is incorporated into the show with 250 square meters of high definition LED screens, video, sound and special effects creating a unique environment.
We will wait for you!!!
We remind you of our schedule EVERY TUESDAY, THURSDAY, FRIDAY AND SATURDAY
TERRA:
20:00 h. a 0.00 hr. Dinner + Show
22:00 h. a 0.00 hr. Spectacle
Show: 34.00€ for adults (15+) / 20.00€ for youngsters (10-14 years) / Under 10s can enter free and soft drinks are available to purchase.
Show and Gran Palace Menu: €54.00.
Includes marinated chicken salad with bacon, crunchy croutons and Gran Palace sauce, pumpkin cream soup, Iberian pork sirloin with a 5-pepper sauce, potatoes au gratin and sautéed vegetables, followed by chef's special dessert.
The Gran Palace Plus Menu: €64.00
The same as above, with the exception of the meat dish (replaced with grilled fillet steak with port sauce, potatoes au gratin and sautéed vegetables).
Children's / Youngster's meal available for children up to 14 years and consists of: Bolognese pasta (beef and tomato sauce, cheese aside), pork escalope a la milanese with fried potatoes, Tulip cookie with chocolate ice-cream.
Both menus include a bottle wine for two, to choose amongst white Rueda, rosé Navarra, or red Rioja.