Enrique Mendoza Cellar
00277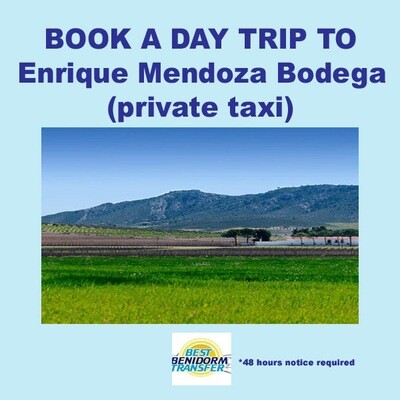 Excursions and Guided Tours
You need book in advance for this.
Up till 4 pax.....35 euros
Up till 8 pax.....50 euros
2 to 3 hours.
Call for more information 0034 630468325 or call on WhatsApp

*Please note this does not include entrance into the bodega this needs to be booked in advance separately - Phone number: (+34) 965 888 for details.
Entrance fee includes the tasting of 7 different wines, samples of cheese, pork, chorizo, olive oil and even chocolate.
The visit lasts for 2 hours and is available Tuesdays to Fridays 10, 12 and 16, Saturdays 10 and 12
---
---
---
For other warehouse issues, please email


us at: bodegas-mendoza@bodegasmendoza.comFor other questions about the winery,
please send an email to: bodegas-mendoza@bodegasmendoza.com